Chennai : A 60-year-old woman was killed and at least three others were injured after a portion of a dilapidated building on Mint Street in Sowcarpet collapsed on Friday night.
Police sources said that the incident happened around 7 pm, when the building collapse down suddenly and fell on the persons who were walking along the building. Outside road shoppers, who had set up shop along the road, ran for cover and in a few minutes local police and personnel from the Tamil Nadu Fire and Rescue Services (TNFRS) reached the scene. Fire Service persons rescued the wounded persons and were involved in clearing the debris.
Hindu Religious and Charitable Endowments Department- Minister Mr. P. K. Sekar Babu rushed to the spot and visited the rescue operation. Later, Minister P. K. Sekar Babu, who met the media, said that despite the notice to demolish the collapsed building, the demolition was delayed because the owner filed a case in the court and the case is pending. He also suggested the Greater Chennai Corporation to investigate the nature of such old buildings and demolish the damaged buildings.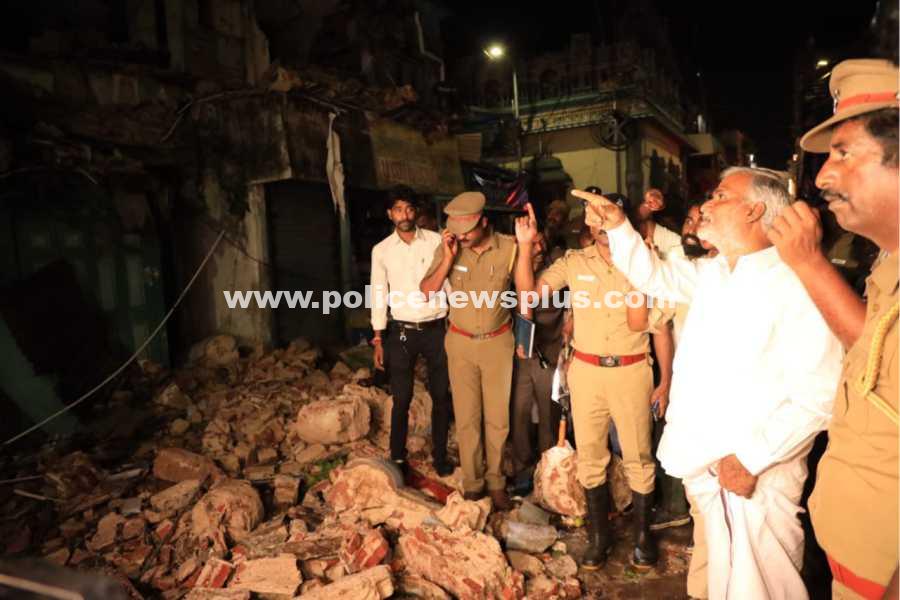 On this occasion, Deputy Commissioner of Police Mrs. Ramya Bharti, IPS accelerated the rescue work. Along with the fire department, the police department was involved in the rescue operation.